Speak about your path to purpose.
Rita Bailey
When asked what my business is, I simply reply, "The People Business"
Currently Founder of Up To Something, LLC, and CEO of Boxages, LLC.
Whether an Entrepreneur, Solopreneur, or Corporate Executive, everybody is Up to Something. Success is determined by the ability to influence, execute, and build relationships that will attract customers who will buy your products, services, or support your cause. Through her experiences as a corporate leader, coach, facilitator, and entrepreneur, Rita has the expertise to help shape your story.
She has traveled the globe sharing insights, and innovative ideas on creating people centric cultures. Delivering immersive experiences that take people out of their comfort zone, she addresses topics of DEI (Diversity, Equity & Inclusion), Leadership, and Personal Growth. Her engaging, authentic style both challenges and encourages people to shift mindsets, question the status quo and be open to new possibilities.
She is the co-author of Destination Profit, Creating People Profit Opportunities in your Organization and the host of Life Disrupted podcast.
Four generations of her family have come together to create a Conscious Business focused on the gift of Giving. Boxages, LLC provides handmade personal or business Custom Gift Boxes for all ages and occasions. For people who want to give a meaningful keepsake that reflects heartfelt care, we have a box for that!
Julie van Amerongen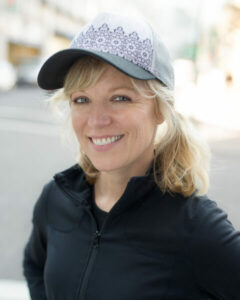 Julie van Amerongen believes that it only takes small steps to unlock the potential of humans and organizations to fully flourish. She is the author of two books that unpack her philosophy for progress on the path to optimal living and founder of Send a Love Note.
Kate Williams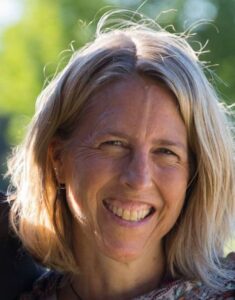 Kate Williams is CEO of 1% for the Planet, a global movement that exists to ensure our planet and future generations thrive by inspiring businesses and individuals to support environmental nonprofit solutions through membership and everyday actions. Started in 2002 by Yvon Chouinard, founder of Patagonia, and Craig Mathews, founder of Blue Ribbon Flies, 1% for the Planet's global network of thousands of businesses and individuals have given more than $265 million to environmental partners to date. Kate has led significant growth in network scale and impact, as well as deep work on best practices for implementing high impact giving strategies, growing a network brand, and operating as highly effective and innovative enterprise.
Kate earned a BA at Princeton University where she majored in history, and an MS at the MIT Sloan School of Management where she focused on organizational systems. She has served on several nonprofit Boards, currently BlueCross BlueShield of Vermont and Shelburne Farms. Kate is a master's distance runner and kitchen gardener. Kate lives in Vermont with her husband and two children.
Kelly Cobb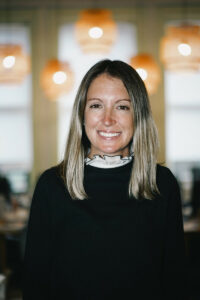 Kelly Cobb is the VP of Community + Giving at Bombas. In her role, she leads the company's mission to help those in need by donating a specially-designed item for every item purchased. Kelly also engages the Bombas team and community members in volunteer opportunities that further their connection with individuals experiencing homelessness. Before joining Bombas, Kelly owned a floral studio for 5 years.
Lorna Davis
Lorna has served as President of multinational consumer goods companies for 20+ years, in Danone, Kraft and Mondelez. She has been a key leader in Danone's purpose journey and is a Global Ambassador for the B Corp movement.
In 2017, Lorna served as CEO and Chairwoman of Danone Wave (now Danone North America), where she established that $6 Billion entity as a Public Benefit Corporation and it achieved B Corp status in 2018, making it the largest B Corp in the world.
She is a member of the Social Mission Board of Seventh Generation, the Integrity Board of Sir Kensington (both companies owned by Unilever), the Board of Guayaki, the Advisory Board of Radicle Impact and the board of B Lab Global.
Lorna has done a TED talk on Radical Interdependence which has been viewed by over 2 million people.
She has lived and led businesses in 7 countries and is passionate about purpose in business, Rhino conservation, and her dog Stir Fry.
Rand Stagen
Rand Stagen is the Chief Executive Officer of the Stagen Leadership Academy. Established in 1999, the Academy trains leaders from across North America who are committed to long-term personal development and using their organizational platforms for positive impact. A passionate advocate for elevating humanity through business, he is also a founding board member and past-Chairman of Conscious Capitalism International. He lives in Dallas with his wife and two daughters.
Terri Maxwell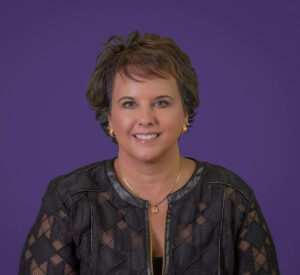 Terri Maxwell is a world-class business growth expert, social impact investor, and serial entrepreneur whose purpose is to inspire potential. With her own money, Terri built a portfolio of purposeful companies, Share On Purpose, Inc., and now invests in and creates mission-driven start-ups.
Terri's latest venture is Shift/Co™, a Business Growth Community for conscious entrepreneurs who want to elevate business success and make the world better. Shift/Co equips members with the skills, resources and connections to make a difference while building a thriving business.
In a career that spans more than 25 years, Terri has launched, owned, sold, re-branded or turned around more than 40 brands, and is a well-known consultant to entrepreneurs seeking to create purposeful businesses.
Tammy Day
Tammy is a business owner and an active community philanthropist and change-maker. Her work focuses on innovative approaches to positive community change, such as Daycos4good, the Youth Philanthropy Contest, and the Philanthropy Council of Northeast Nebraska. Tammy is a mentor, speaker, and trainer who helps people, businesses, nonprofits, and communities learn new ways to give back and make a difference. She is sharing her approach to doing philanthropy differently in her upcoming book, It's Not Just About the Money: A Practical Guide to Doing More Good.
Chad Kilpatrick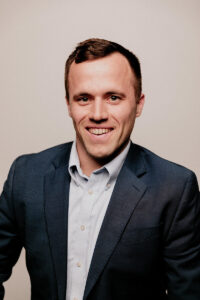 Chad is the Director, Talent Community at Spreetail. He leads the Talent Acquisition, Social Impact, Talent Brand & Creative teams. Spreetail strives to make a difference in the community through creative programming and employee engagement. In 2020, Spreetail was recognized nationally as a Top 15 CSR Brand, by Millie, a social impact software program based in Boston, MA.
Lyn Wineman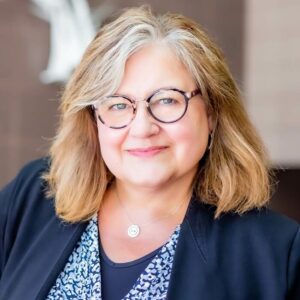 KidGlov President and Chief Strategist
A marketing veteran with over 30 years of experience, Lyn is one of the most passionate and accomplished marketing leaders of her generation. Her award-winning work has helped a multitude of national, regional and local organizations achieve their goals.
Lyn has been inducted into the Lincoln Chapter of the American Marketing Association Hall of Fame and was recognized as Marketer of the Year. She has been recognized by the Lincoln Journal Star Inspire Salute to Women in Leadership for Excellence in Entrepreneurship. In 2018 Lyn was awarded the Advertising Federation of Lincoln's silver medal for lifetime achievement.
A visionary with heart, Lyn is focused on creating the ultimate work culture while serving clients who make a positive difference in the world. KidGlov has been recognized multiple times as one of Lincoln, Nebraska's Best Places to Work and is currently in review for B Corp certification.
Lyn and husband, Neil, live on a historic farm where they raise a small flock of peacocks. They enjoy spending time with her children Haley, Scott, Erin, and son-in-law Kade.
Jay Coen Gilbert
Jay Coen Gilbert is CEO of Imperative 21, a business-led network that believes the imperative of the 21st century is to RESET our economic system so that its purpose is to create shared well being on a healthy planet. Network steward organizations include B Lab, The B Team, Chief Executives for Corporate Purpose (CECP), Common Future, Conscious Capitalism, Inc., Global Impact Investing Network (GIIN), JUST Capital, and Participant. Imperative 21 builds on Jay's experience as cofounder of B Lab, the nonprofit behind the global B Corporation movement. Along with his B Lab cofounders, Jay is the recipient of the Skoll Award for Social Entrepreneurship and the McNulty Prize at the Aspen Institute, where he is a Henry Crown Fellow. Jay now lives in Berwyn, PA with his yogini wife Randi and two children, Dex and Ria, now 22 and 21.
Do More Good® Movement is a fiscally sponsored project of Nonprofit Hub Foundation, EIN 47-1812040.
Donations and sponsorships are tax deductible.
Nonprofit Hub Foundation is a national educational resource dedicated to helping nonprofits grow their missions and better their organizations.